Organic Search Optimization
Organic search results are search engine query results calculated only algorithmically and excludes any paid advertising. We specialize in organic search engine placement building a long-term program to provide a business with sustained, consistent position in search engine results.
Online Brand Audit
We look carefully at your brand perception and how it supports your business. It assesses who your competitors are and what they are doing, building a picture of opportunities.
Technical Analysis
A look at the website from a technical perspective will provide a road map for any necessary changes. Understanding the website structure, html, usability, site speed and how the website performs on mobile devices affects listings in natural search results.
Keyword Identification
It takes careful analysis to target the right keywords for increased visibility, especially with highly competetive keywords. Current and competitor keywords coupled with extensive keyword research and testing create a successful foundation.
Content Optimization
Search engines derive relevance when it crawls your website learning about your business. Factors like the page content, hierarchy of tags, and the keywords your content is focused has to be constructed carefully and tested thoroughly.
Performance Monitoring
We monitor real-time search impressions and rankings, competitor results and changes as well as a dozen other perfomance metrics. We track industry changes very closely and research the effect on impressions and rankings. Regular reporting will keep you informed.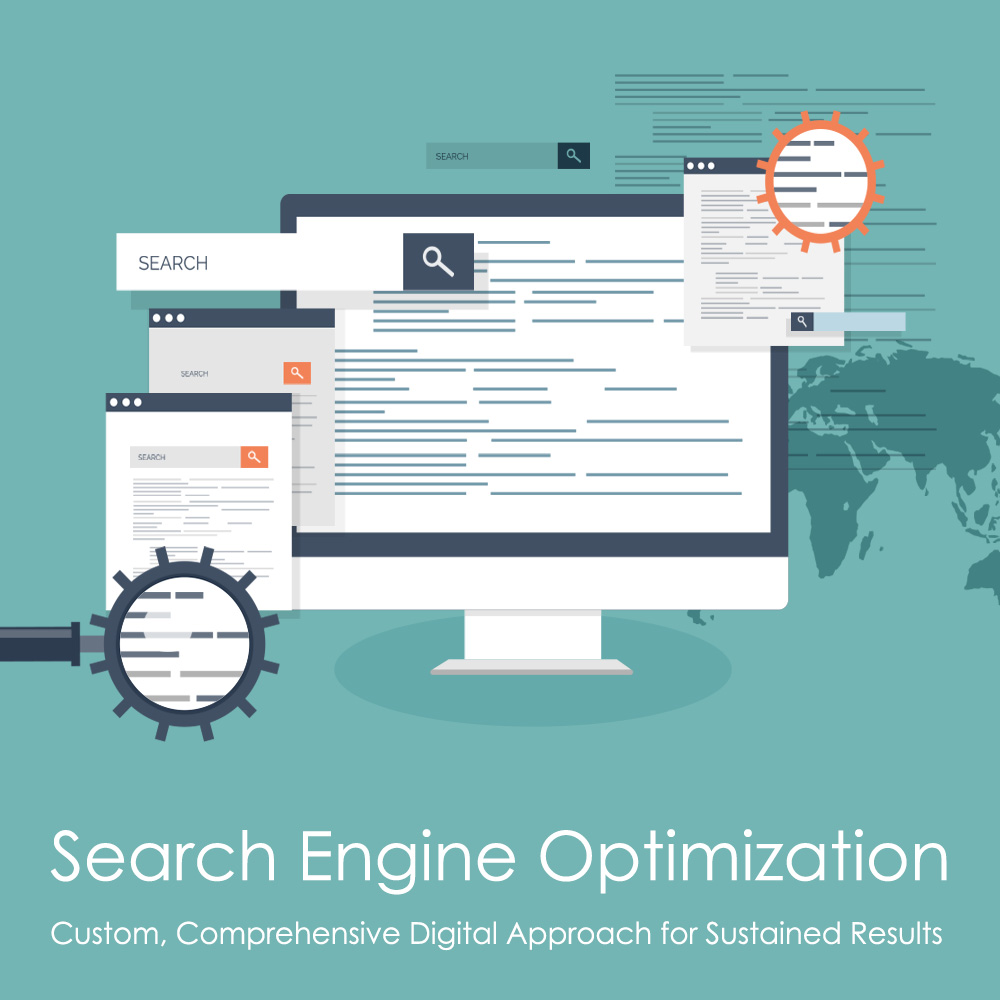 You have any questions? Contact us now!
Whether you're ready to start a project or still in the idea phase, give us a call or send us an email. We would love to have a discussion and help determine the best options or solutions.
What does SEO implementation look like?
Implementing an Organic Search Engine Optimization program is a regimented, technical process. It takes time and patience to build a core presence that sustains over time. It's critical for long-term success.
Evaluation
A comprehensive review of your business, web properties, social media participation and competitors helps create a picture of your business.
We create a business summary and begin to formulate a plan for updates, changes and new ideas.
Business Profile
The first step in preparation for our SEO program is to create a profile of your business to provide a complete understanding of the business' function and the established goals and objectives, through a brand audit.
Marketing Landscape
Next, we investigate current marketing efforts and their implementation. We review current use of social media properties, email campaigns and any traditional marketing channels. All along, we look carefully at success rates.
Competitor Analysis
A competitive analysis includes the top competitors in your industry as well as local competitors. We research to find strengths and weaknesses for opportunities and dig deep into what keywords they use and where they rank in search engine results.
Technical Audit
A thorough technical audit is performed to find the level of effective SEO code standards. This includes use of html, usability of the navigation, speed of load time, and mobile device compatibility. This information is used in our roadmap for success.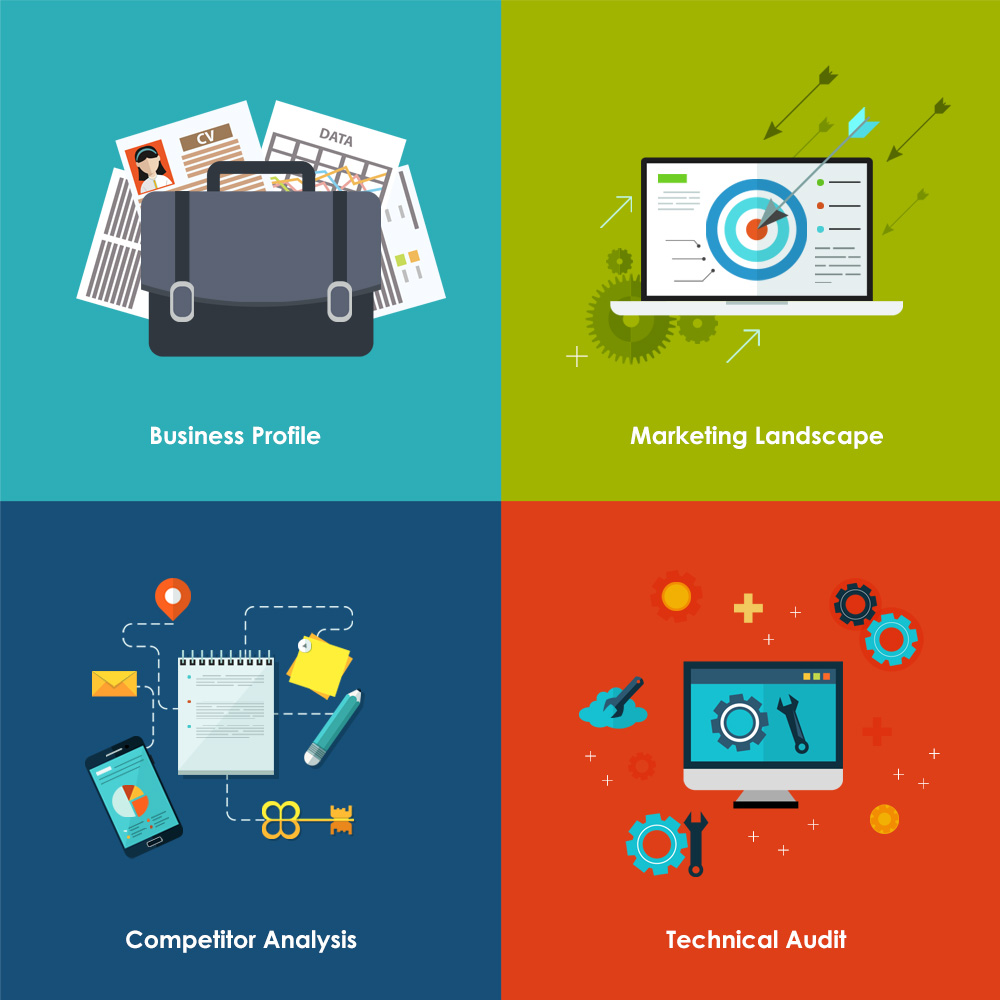 Roadmap
After the business evaluation we continue keyword research, content analysis and review off-page opportunities.
All the detail is analized and written into an Organic Search Engine Optimization plan.
Keywords
Organic Search Optimization requires a slightly different approach to finding the right keywords. We research and test both your site and your competitors to find important short tail and long tail keywords relevant to your industry, region and audience.
Content
We analyze the optimal keywords discovered and their appearance throughout the content on your site, looking for keyword density, location on the page, and what the page actually means to a site crawler. This coupled with the marketing objectives from our audit helps us create a content plan.
Off-Page
Off-page opportunities adds a different set of options to our SEO program. These are the factors outside the boundaries of your sites web pages. Off-page includes backlink maintenance like acquiring backlinks from authority sites, Social Media, and Social Bookmarking as well as removing toxic backlinks, which have a negative effect.
Roadmap Report
We provide a thorough plan based on all our findings and research that fits your objectives while incorporating our recommendations from years of experience. We collaborate on the contents of the plan and tweak where needed before we are ready for it to be implemented.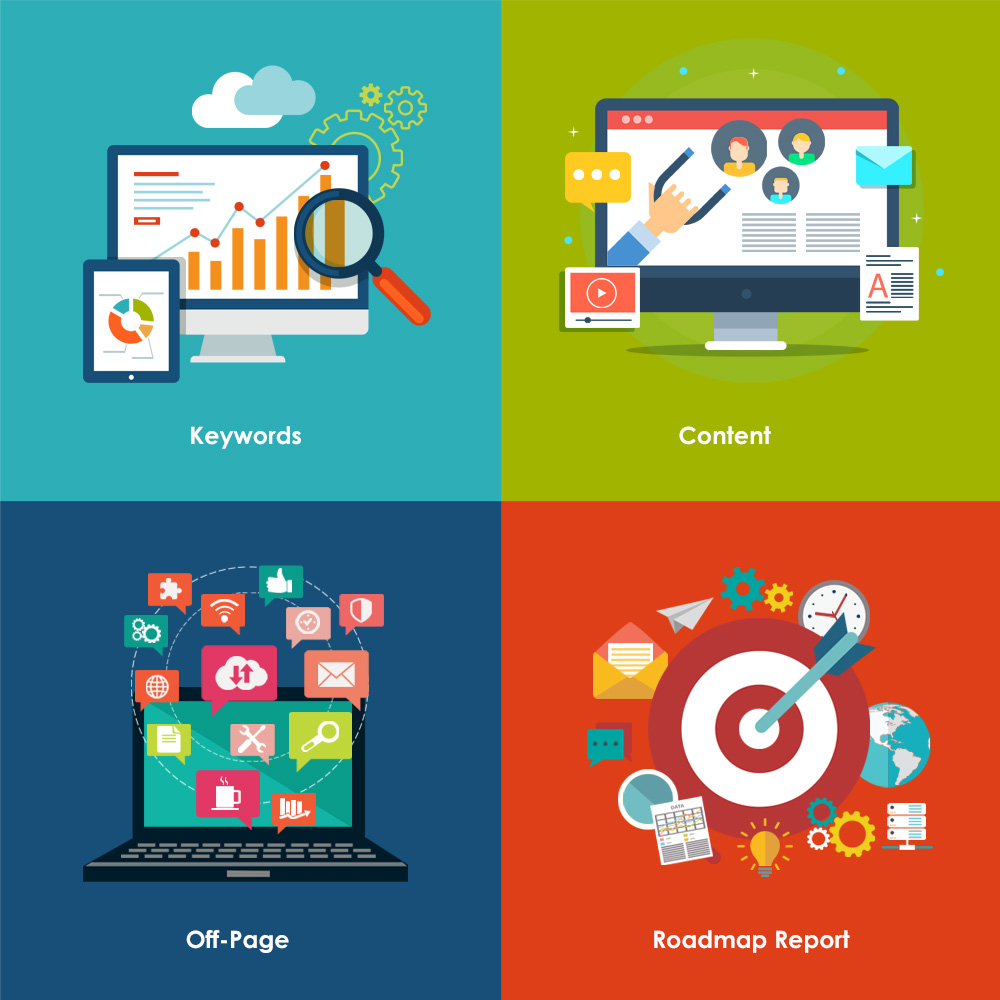 Implementation
Our Organic Search Engine Optimization plan will likely be the first phase in a series. Our program is designed to be flexibile in approach and segmented to allow us to promptly make changes.
Search Engine algorithms change sometimes daily and can adversly affect impressions. A plan with flexibility can shift gears to maintain progress.
Implement Analytics
Industry leading instruments and reporting will allow us to closely monitor real-time data of search impressions and rankings. Our combination of human and software-powered analytics will give us insight as changes are made and updates from our plan are executed.
Structural Changes
Any design or structural changes or updates to the website are the first to be implemented. This might involve changing the underlying HTML or the navigational structure to help the site crawlability. The main objective is to prepare for content updates.
Content Changes
Content is updated or changed in stages to allow us to monitor its impact. Our keyword and content analysis guides titles, subtitles, meta data and more. This can be time consuming with small changes and rearrangements to change meaning.
Site Testing
After each set of changes, a set of tests are run for validation. An element as small as a header tag or a page title can slightly change the meaning of a page, resulting in a change in search postion and the number of impressions.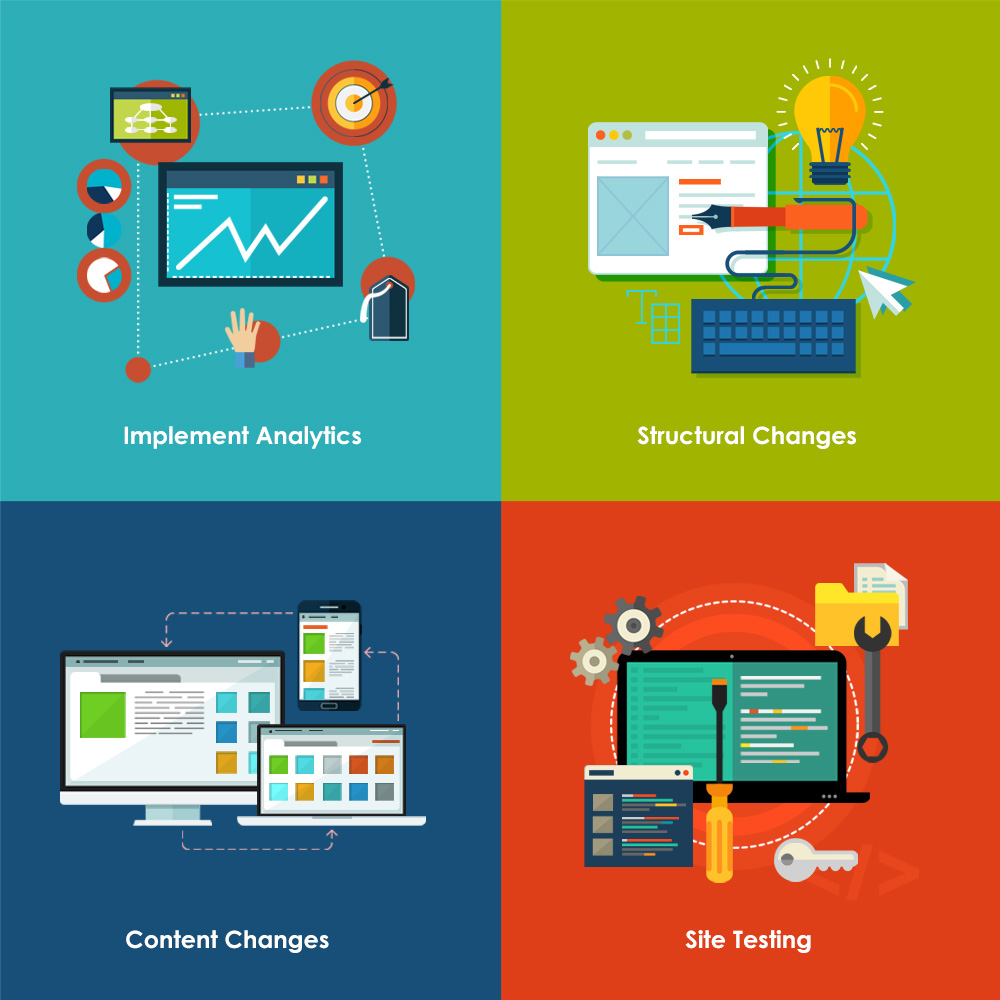 Performance Assessment
We monitor real-time search impressions and rankings, competitor results and how the initial updates are changing the SERP impressions. We follow this closely and will continue our SEO roadmap.
Daily Monitoring
It can take some time for changes to be realized in search engine results. We monitor the change of impressions, positions and which keywords are performing or underperforming looking for trends.
Refinement
As we review the analytics, there will undoubtedly will be additions and tweaks to the changes and updates. This process continues until we see trends in the right direction or we validate the roadmap.
Recommendations
As work continues, new analytics become available. This new data fuels new learning and opportunties, which can lead us to identifying changes in competitor behavior or search engine algorythm updates.
The Next Roadmap
Now that we have an analytics baseline to gauge our success, we can leverage it. We take this new information and the progress we've made and merge them creating the foundation for the next phase of implementation.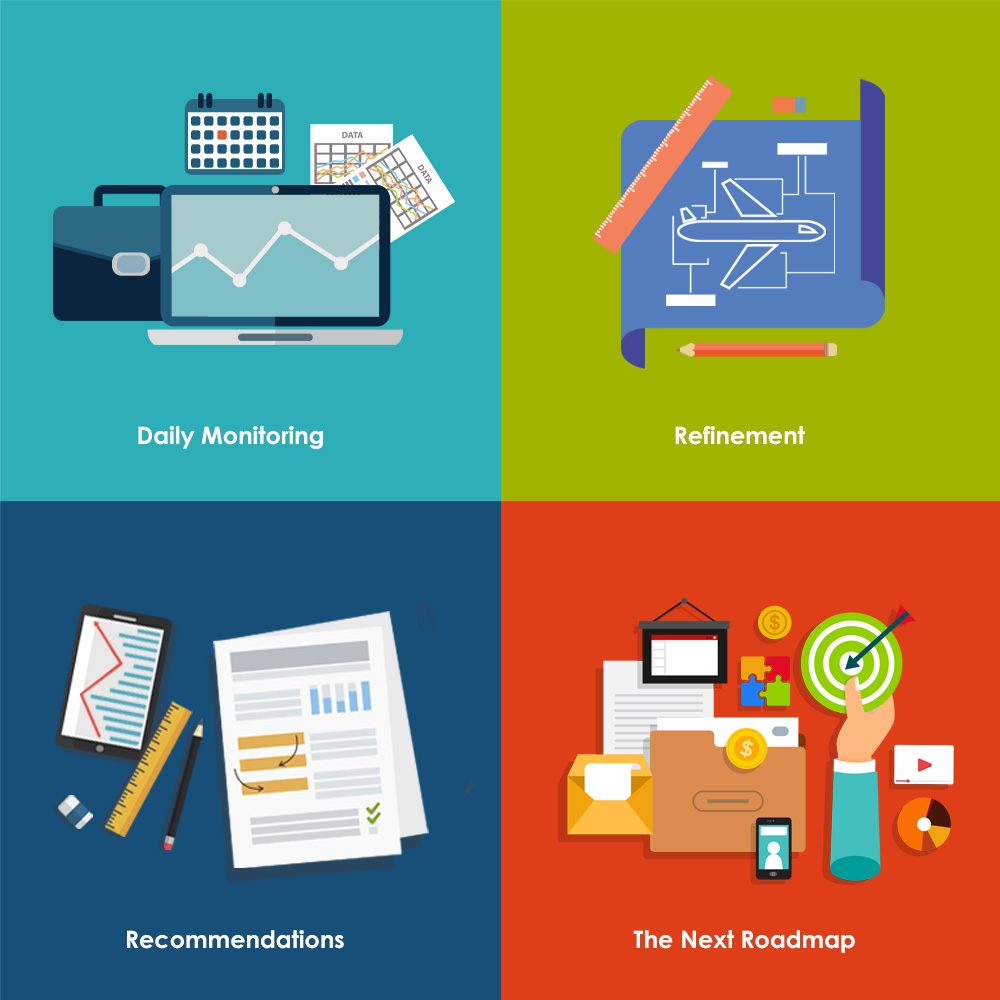 Get Started.
Whether you're ready to start a project or still in the idea phase, give us a call or send us an email. We would love to have a discussion and help determine the best options or solutions.